Investment Strategies
GUEST COMMENT: JP Morgan Private Bank On Europe's Largest Economy

The US private bank comments on the current state of the German economy.
The following commentary about the state of Germany comes from JP Morgan Private Bank, provided exclusively to this news service. The views expressed are those of the bank, and not necessarily shared by the editors of this publication; we are, however, very pleased to share these views and invite readers to respond.
Germany is the euro area's powerhouse, with its economy contributing almost 30 per cent to the region's gross domestic product. As the world's third-largest exporter of manufactured goods with an 8 per cent share, German cars, machines, chemical goods, electronics, pharmaceuticals and foods are ubiquitous. As a result, Germany's economic health is of paramount importance to the euro area's economy, and its complex economy is creating opportunities and challenges for investors.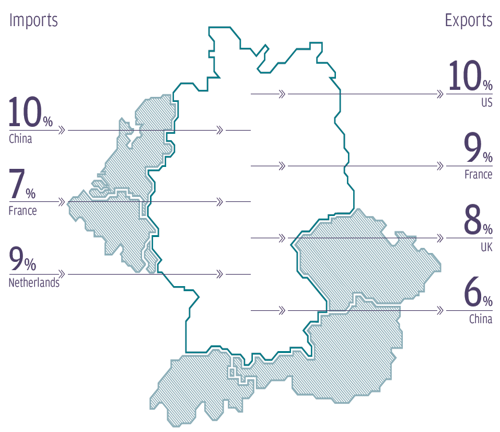 External demand and global growth
Manufacturing represents 23 per cent of GDP, and the services sector linked to its export market is relatively large (exports have a 37 per cent services content). Germany's exports have also helped the economy recover since the financial crisis, and the country's economic cycle is closely correlated with global growth.
"Trade with other euro area countries accounts for just over a third of Germany's exports and imports, which means the health of the global economy outside the European Union is important for German businesses," said Ulrich Von Auer, head of investments for the private bank in Germany. "However, limited exposure to emerging markets means slower growth in those regions has only a minimal impact on its export sector. The boost from the euro's depreciation may be fading in 2016, but with increasing domestic demand, imports could also rise."
Strength in the Mittelstand
The main driver of export strength comes from Germany's "hidden champions": the Mittelstand companies. These 3.6 million mostly small- and medium-sized enterprises account for around 36 per cent of total revenues and employ almost 60 per cent of the nation's workforce. They make up more than 60 per cent of most German service sectors and 80 per cent of turnover in the country's hotel and restaurant, education and construction sectors.
In contrast, manufacturing, financial services and utilities are predominantly controlled by large businesses. Measured by revenues, the share of small- and medium-sized enterprises in these three sectors is as low as 24 per cent, 19 per cent and 10 per cent, respectively.
"Investors seeking passive exposure to German equities should consider this varied industry structure, which underlines the importance of choosing the right index," Von Auer said. "Sector composition can have a significant impact on performance."